Discover Your Personal Magic Profile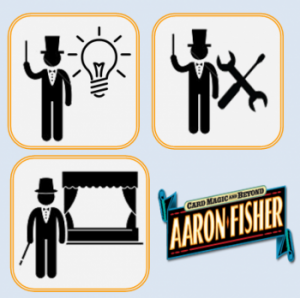 One of the things I've discovered, working with my online students, is that each one of us is drawn naturally to certain archetypes – again that's one of those psychology words – but  what it comes down to is: People who get interested in magic tend to fit loosely into one of the profiles I'm about to share with you.
And these profiles don't just apply to my students, but to most, if not all magicians.  As I break these different styles down, ask yourself which one best describes the way you approach your magic right now.
Again – no person is an average, so as you read these you may see that you may fit one of these profiles to a tee – but it's just as likely you may see elements of two, or all three in yourself.
---
If you are interested in this article, you should check this out! Get Video Training About This Exact Topic Now >
---
Magic Profile # 1: The Natural Born Showman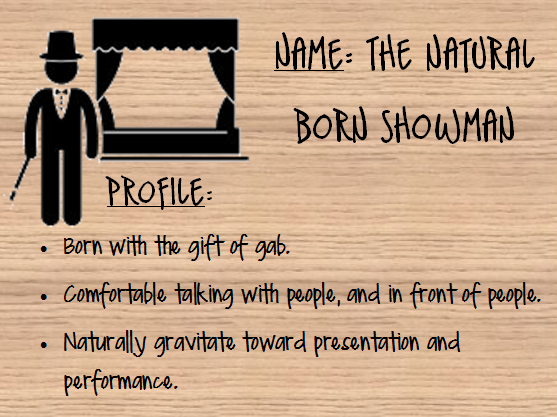 This person was born with the gift of gab.  They are comfortable talking with people, and in front of people…they come with that setting directly from the factory, or it develops as they grow up. But either way – when these folks get into magic,  they naturally gravitate toward presentation and performance. That drives their approach to magic – from the tricks they choose, to how they perform them.
Here's how a Showman Type magician might naturally divide his or her focus among the core elements of magic – by naturally favoring their strengths.
Just fyi – When I first decided to do magic as a boy (the first year or so), I loved doing tricks for anyone and everyone because I fit this kind of profile.
65% for Presentation
20% for structure
5% for misdirection
10% for technique
Magic Profile # 2: The Thinker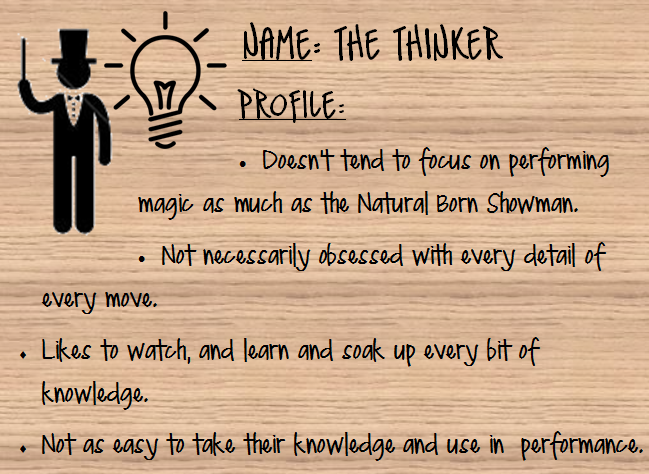 This person doesn't tend to focus on performing magic as much as the Natural Born Showman, but he/she is not necessarily obsessed with every detail of every move. They like to watch, and learn and soak up every bit of knowledge. It's not as easy for the Thinker in to take their knowledge and use in  performance.
But as a result of his approach to taking it all in, the Thinker develops a sense of what makes a good trick. In a sense, and in part because he's not a natural 'song and dance man' kind of person, he gets to see more of the big picture – that draws The Thinker naturally toward the element of structure.
A Thinker might focus their attention breakdown among the 4 core elements of magic like this:
5% for Presentation 
70% for structure 
5% for misdirection
20% for technique
Magic Profile # 3: The Mechanic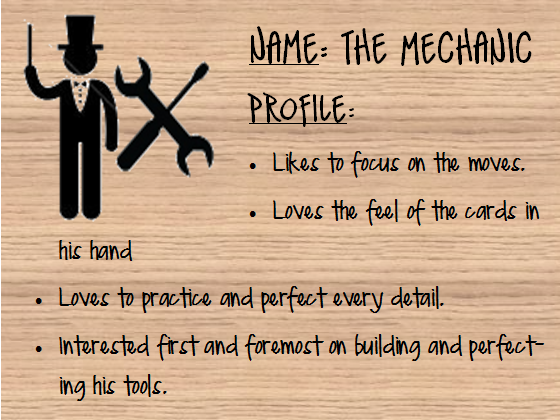 Now we have the Mechanic. The mechanic likes to focus on the moves – he loves the feel of the cards in his hand and he loves to practice and perfect every detail.
After I was in magic about a year or two at most, I had performed every trick in the magic shop they would see me with the help of my Inner Showman, but then a funny thing happened.
Over a period of a few months, I fell in love with card magic in particular. And as that happened,   My Natural Born Showman seemed to fade away overnight –  I began thinking like The Mechanic.
Just to be clear –  I wasn't  good at any moves or sleights.  But my approach changed.   I didn't want to PERFORM magic very much at this point – because The  Mechanic Archetype – or Profile –  is interested first and foremost on building and perfecting his tools.
So after my interest in card magic got crazy serious,  my Attention Profile looked something like this:
0%  for Presentation
0%  for structure 
0%  for misdirection 
100%  for technique
So here's the thing, we each have an inner mechanic, an inner thinker and even an inner natural born showman. They're in there somewhere. But whichever one we feel most comfortable with tends to run the show – unchallenged – in some cases for years, or a magicians whole life.
How to use Your Magic Profile
If your end goal is to truly amaze people with your magic, try this quick exercise.
The first thing is see which one of the profiles we mentioned above fits you the most. Just like we did earlier, put a number – a percentage – of your magic energy you place into each one of the four elements –  technique, misdirection, trick structure and presentation.
Many of us are drawn to two or three of the elements naturally – and apply little, or no attention to one or two. Just do your best to examine your personal approach AT THIS MOMENT and put a number that should go by each element. And do please be honest with yourself – or you won't get accurate and helpful numbers.
That quick exercise will show you immediate insight into where you put most of your energy – and where you might be neglecting a crucial area, or two,  of your game.
If you see a low number in any area – like anything near or under a ten, you can add immediate power to the effect of your magic by simply adding a bit more attention to the undervalued element.  If you can just get each of those numbers above a ten for a start – you'll feel the overall effects every time you do magic.