Do you have a handful of tricks, a desire to perform, and no idea what to do next?  Or like so many of us, can you only perform one disjointed trick after another?  If you can answer yes to either one of these questions – then you'll find this post to be particularly useful. (Also, check out this article on 
easy card tricks
.)
Wisdom from the Masters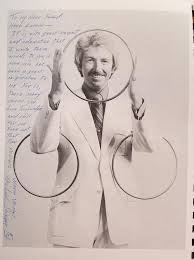 Michael Skinner, one of the greatest magicians of the last century, was a first generation Vernon student and a truly gentle soul. He was kind enough to have dinner with me once a week when I lived in Las Vegas.  Mike was a true gentleman. No matter who you were, or where you came from, he was gracious, giving and kind.
If you ever saw him perform – you knew in an instant you were in the presence of a true master. Mike mostly taught by example. Observing your mentors in the field can often teach you more about magic than you can imagine. But I heard Michael give a particular piece of advice to many students over the years – including myself – in order to turn a collection of tricks into a top quality close-up show that can be tailored to any audience or occasion.
I still use the advice I'm about to share with you – and I coach my private online students to do that same.  The advice is simple – but it's golden.
Bundle your tricks in groups of three.
Michael was famous for having the largest close-up repertoire in the world – literally hundreds of tricks. He found that by collecting his effects in sets of three, he could ensure each performance would always have a clear beginning, middle and end – and consistently build to a satisfying climax in performance.
"So Aaron, does that mean I can only do three tricks at a time?"
Of course not! You can do one set of three tricks followed by another, and another, and another. Don't get me wrong – it's always nice to leave the audience wanting more, but when you have a good crowd warmed up, relaxed and ready to go along for a ride, it's one of a magician's great joys to be able to deliver the full meal deal – a robust experience that takes the audience as far out of their daily lives as he or she possibly can.
Grouping your tricks in sets of three helps you in several ways. You'll always know what effect comes next. Each effect will build on the last – and that best of all, you'll always have a great closer waiting just around the corner when your spidey senses tell you it's time to wrap it up. Prepping this way in advance gives you real and deep confidence, and allows your audience to feel safe and secure that you know how do your job. They, in turn, can relax, and feel safe to give themselves over to your care and the show.
Now creating a magical experience becomes much, much easier.
That's why I always recommend Michael's advice to my online students. Now, once you've got that down, take it to the next level…
Be able to play Magic Jazz.
Let's assume you have ten tricks you feel are ready to meet the world – but you're not sure how to put them together. Great! Follow Michael's advice and put those tricks into groups of three. But don't stop there.
Use your list of tricks to make as many three tricks combinations as you can. Make sure each group builds to a climax and that each trick transitions nicely into the next. As you go through this process, you may add a few new tricks, and/or some variations on tricks you already do to fill out any holes in the sets you're building. At this point, each set is merely an idea. So the more ideas you have, the more likely you'll end up with some you really like. You won't know which sets play well until you start performing them in front of real people.
When you're putting these sets together remember: your ambitious card routine may appear first in one set, in the middle of another, and as a closer in a third set. You may end up with 7 three trick sets, and include that ambitious card in many of them. Once you start performing, you may discover that your ambitious card routine  always fits happily in the middle, or that with one or two modifications, it can work great as an opener or a closer too. Much of the time, It will depend on the mix of tricks in a set – and how each effect balances the others to create an effective combination.
This process gets incredible results for me and for my students. You get to know your material intimately and consider it deeply.  Then, as you begin testing the sets in performance, you see what a trick can do for you – as well as its limitations. You'll also see why some of your tricks fit well together – and why others don't. The insights you'll gain from this exercise  will make your magic stronger on every level.
Once you have a bunch of sets, and several tricks that appear in different positions in those sets, things start to get really exciting. You become empowered to choose – in real time – exactly the right amount of show to give to your audience without them ever sensing the slightest calculation on your part.
Here's a scenario to show you how this approach works in the field.
Let's assume you're ambitious card is the closer of Set A but the opener of Set B. You're performing Set A, and as you get into the ambitious card closer, you notice the crowd is warmed up and really with you. You can just feel it in your bones that this situation calls for a bit more magic. Thanks to your preparation, you can finish your ambitious card and then move into Set A – exactly as if you had just finished the opener of Set B. You've got another middle and closer lined up and ready to go. You can feel secure knowing it all fits together perfectly – like a polished, prepared and perfectly paced show.
Once you have enough three trick sets, and enough tricks that appear in different positions in those sets, you can use the perform epic sets of jazz magic – and always know you have an underlying structure to ensure your performance doesn't devolve into a disconnected display of random tricks.
Relax. It's all about the process.
If this post seems a little challenging, don't worry. It's more than possible you're not at this stage of the game yet. But there's good news. I'd be happy to help you. We'll start just exactly where you are and go step by step. It's a lot of fun, and a hell of a lot easier than going it alone.  Just drop me an email and let me know a bit about you and your magic.  I'll get right back to you with suggestions for what YOUR next move should be. It's my job to help magicians get the effects, skills and confidence they need to do magic they really love. So drop me a line – I really do look forward to hearing from you.
Now it's your turn.
Do you perform? If so, how do you group your tricks? Do you find there's an average attention span your audiences have for your magic? Do you think that's hard-wired into your venue and gig? Or is it the way you approach the your magic that makes the difference.
There are so many different facets of this issue – I'd love to read your perspective.