3 Tips to Make Your First Magic Gig a Smash: A Mini Survival Guide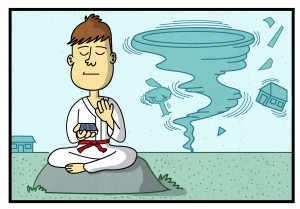 Everyone gets nervous – really nervous – before their first gigs. If you want have a great time and have everyone love your magic, it's important to concentrate on just a few things that really matter. I've written this short survival guide to help you focus on what's important. Whether we're working professionally this holiday season, or just entertaining the family after dinner – we all want our magic to amaze and delight. After you've read my Survival Tips, why not leave us a few of your own? I can't wait to read them.
#1 Performing strolling magic during a cocktail hour can be really weird – accept it and move on.
Cocktail hours can be tough on a performer. The guests just got off work. They haven't yet shifted  into party mode. They're not particularly relaxed and they haven't had a drink. Thanks to rush hour, people are running late. Invariably, when it's time to start performing, you won't have many good options to choose from – no one will look ready for magic.
Your job is to break that ice. Jump in quickly and perform for whoever you can – even groups of one or two people. This is your chance to start your motor and get comfortable in the space. You could be Harry Houdini himself, risen from the grave, and it wouldn't matter. Before people begin integrating into groups and/or the first cocktails kick in, you may find the crowds unresponsive and hard to connect with.
Remember, just because the crowd is quiet, or doesn't participate to your satisfaction, doesn't mean they're not having fun. Your job is to stay patient and play your part. Within 35-40 minutes, your audience will begin shifting into 'off work' mode, and start enjoying themselves. As the crowds around you get bigger and warmer, you'll start having more fun and your magic will get stronger too. Before you know it, you'll be on fire! A few minutes later – the host will invite the guests to sit down for dinner, and the set will be over. Just as you were getting into the groove.
That's just how cocktail hour is. Learn to love it.
#2 Working an event is more like a marathon than a sprint: Budget your material for the long game.
Special events often go through three distinct stages over three or four hours: Cocktail Hour, Dinner and After Dinner. We don't do magic while people are eating, so that leaves Cocktail Hour and After Dinner for magic.
Stage 1 is Cocktail Hour. Avoid the common mistake of using all your best material here. While a strong opener can help you get off to a good start, always keep in mind you have a long night ahead of you.  Like a chess player, you're not trying to win the game during the opening. As we've already discussed, guests are rarely highly receptive before dinner and drinks. So wise magicians use this time to 'open up the board'  for later opportunities.
Pop-up, introduce yourself, do a few strong effects and move on. Let everyone know who you are and why you're at the party. Don't waste your most amazing magic on people who aren't ready to experience it. Instead, aim to leave them wanting more and save your best material for later.
Stage 2 is Dinner. For the guests it's time to eat. Use this opportunity to freshen up, put away the Stage 1 material, and load up the props you'll need for Stage 3.
Stage 3 is After Dinner, where the magic really happens. Chances are you'll have access to table space and a chair. That means you'll be able to sit with the guests and forge the personal connection with them that real close-up magic requires. This is your chance to do authentic, powerful close-up magic for a receptive audience that knows who you are and wants to see you. Like a chess player, you've reached the endgame. If you've used the opening wisely, you can bring out your real miracles and use them to shine – and win the game.
Learn to identify the phases of every event you work. Choose the most appropriate material for each stage, and start to notice when one stage is ending and another is on the rise. If your material evolves with event, you'll always be in perfect step with your audience, and your host!  
#3 Group your tricks in sets of three.
Michael Skinner, one of the most graceful and effective close up workers of all time, offered great advice when I asked him how to become a professional magician. He recommended organizing all of your tricks in groups of three because it gives you the confidence to know, from the very first moment you say, "pick a card", where the whole scenario leads. This ensures that each of your tricks has a happy home – and so will stand a much better chance of seeing some performance time as part of a 'show'
With this approach, you're not locked in. In fact, knowing the plan gives you a spontaneity that leads to inspired performance choices. Any trick can be on several of your 'three trick lists'. For example, your Ambitious Card Routine might open one set, close another and be the center trick of a third. The key is to work with organizing your tricks for performance in as many ways as you can. It's the best way to learn how to construct a show, and an awesome way of exploring the hidden capabilities and limitations of any trick you perform.
Using these three trick lists, and knowing the beginning, middle and end of the set you're currently performing, will give you a clarity and confidence you won't find any other way.
In Closing
Do the gig you have – not the gig you wish you had!
I remember the first time I worked a gigantic banquet: there were at least 100 tables with 10 people at each one, music everywhere, trapeze artists, and acoustics which made it all but impossible to be heard by anyone. At this event, I was working with about 5 other top professionals.
It turned out to be a very hard night. I watch the seasoned pros around me use material I never would have considered. And I learned an important lesson that all real pros know: professional magicians need to have enough material, and the right material, to work in difficult, or even terrible, conditions.
In a gigantic banquet like the one I just described, only visual material that can be done silently will work. The Fire Wallet works and visual money tricks do too. Mental Photography Cards, the Ninja Rings and  the Jumping Knot can all be seen by everyone and don't require the magician to say a single word. I'm a sleight of hand artist by trade, and I use an unprepared deck whenever possible. But if you want to be a professional magician, you need to understand why the kinds of effects listed above demand a place in your close-up case.
Remember, if you don't know what your job is, there's no way for you to complete it successfully. Knowing exactly when and where to perform what material, and having the organization to do so, is essential to performing strong magic. Keeping these tips in mind as you begin your performing career will help you create the bulletproof working repertoire you'll need to succeed in any and every situation!